COA President Graduates from Health Policy Fellowship
(October 9, 2015) Columbus Osteopathic Association (COA) President Darren J. Sommer, DO, recently completed the Health Policy Fellowship, a year-long program designed for DOs who are preparing for leadership roles in the osteopathic profession and positions of influence in health policy. It is designed to give participants the skills needed to analyze, formulate, and implement health policy on the local, state, and national levels with the purpose of increasing access to affordable, quality health care.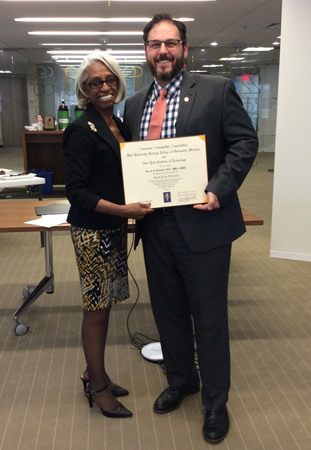 Ohio University Heritage College of Osteopathic Medicine and New York Institute of Technology/ New York College of Osteopathic Medicine coordinate the certificate program through a collaboration of the American Osteopathic Association (AOA); American Association of Colleges of Osteopathic Medicine (AACOM); and AACOM member colleges.
Sommer, who was served on the COA Executive Council for several years, is active in the profession and maintains membership in the AOA, OOA, ACOI, and Society of Hospital Medicine. He is a Certified Physician Executive and holds his DO and Master's of Public Health degrees from Nova Southeastern University College of Osteopathic Medicine and an MBA from Duke's Fuqua School of Business.
In addition, Sommer's military career spans more than 20 years. He served as a physician with the US Army's 82nd Airborne Division, completed two combat deployments, and earned numerous decorations including the Bronze Star, Combat Medic Badge, and Combat Action Badge.
The Health Policy Fellowship Class of 2015 (the 21st class) received certificates of graduation from HPF Director Barbara Ross-Lee, DO, September 19, at the AOA National Advocacy Center in Washington, DC. Ross-Lee started the program in 1994 while dean at OU-HCOM in Athens. To date, 136 individuals have participated in the program.
The OOA supports members who are accepted into the Fellowship through a grant to help defray expenses.
Ohio Graduates of the Health Policy Fellowship:
Peter A. Bell, DO, MBA
Jeffrey S. Benseler, DO
David A. Bitonte, DO, MBA, MPH
Paul J. Bruner, DO
David D. Goldberg, DO
Darrell Lynn Grace, DO
Jennifer L. Gwilym, DO
Charles D. Hanshaw, DO
Roy W. Harris, DO
Gregory Hill, DO
Kirk L. Hilliard, DO
Robert L. Hunter, DO
Terry A. Johnson, DO
Cynthia S. Kelley, DO
Brian W. Marshall, DO
Gary L. Moorman, DO
Heidi A. Morris, DO
Susan L. Payson, DO
Martha A. Simpson, DO, MBA
Charlene E. Smith, PhD
Roger L. Wohlwend, DO