Medical Marijuana Takes Center Stage at the Statehouse
(January 28, 2016) Speaker of the House Cliff Rosenberger has appointed a 15-member task force of legislators, legal, medical and law enforcement officials to help the Ohio General Assembly address medical marijuana legalization.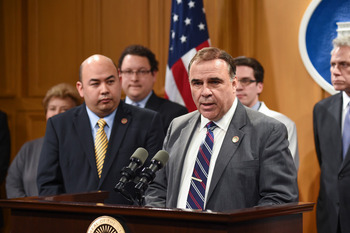 At the same time, Sen. Dave Burke (R-Marysville) and Sen. Kenny Yuko (D-Richmond Hts.) plan to hold public town hall meetings in Cleveland (Jan. 30), Cincinnati (Feb.4) and Toledo (Feb. 11) to gather input from the public. Activities of the Ohio House and Senate are being coordinated, and information gathered will be shared to help develop a bi-partisan approach to the controversial issue.
Meanwhile, three legalization efforts are also being discussed by outside groups as ballot issues for this November. Two would legalize marijuana for both medical and recreational uses. The Washington, D.C.-based Marijuana Policy Project also plans a constitutional amendment to establish a medical marijuana system similar to those in 23 states and the District of Columbia.
"This issue is something that has been discussed for some time, on both sides of the aisle, and last November, the people of Ohio resoundingly defeated a ballot proposal that would allow the recreational use of marijuana, " said Rosenberger. "However, the initiative sparked debate about whether or not medical marijuana should be prohibited for those who are suffering from a specific illness.
"The goal of this task force is to have a methodical and holistic approach to the conversation, which means including members on both sides of the aisle, as well as medical experts, community advocacy groups and law enforcement officials. Having this discussion is important for our state and I think this task force gives us an ideal setting to do that."
The House Medical Marijuana Task Force will be chaired by Rep. Kirk Schuring (R-Canton). Meetings are scheduled between Jan. 28 and April 7 at the Statehouse. Task force members include:
Rep. Kirk Schuring (R-Canton), chair
Rep. Steve Huffman (R-Tipp City)
Rep. Dan Ramos (D-Lorain)
Dr. Brian Santin, Ohio State Medical Association
Nick Lashutka, president, the Ohio Children's Hospital Association
Betty Montgomery, former Ohio Attorney General
Chris Stock, advocate for medical marijuana
Jimmy Gould, formerly of ResponsibileOhio
Bill Sopko, chair of the Ohio Manufacturers' Association
Lora Miller, Ohio Council of Retail Merchants
Linda Hondros, Ohio Chamber of Commerce
Matt Szollosi, Affiliated Construction Trades
Larry Moliterno, Ohio Alliance of Recovery Providers
Gary Wolske, Fraternal Order of Police of Ohio
Matt Lutz, Muskingum County Sheriff