Polar Explorer to Keynote Ohio Osteopathic Symposium
(February 2015) Imagine yourself on the highest mountain in the world. You have to deal with the physiological effects of extreme altitude—along with bone-chilling temperatures, battering winds, and a climbing team that's counting on all of its members to make smart decisions.
Drawing on her experience as team captain of the first American Women's Everest Expedition, adventurer, and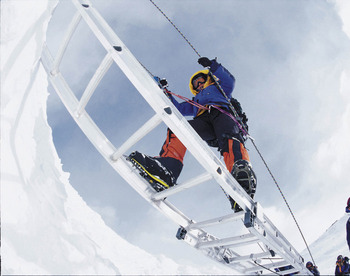 mountaineer, Alison Levine will share her experience and leadership lessons when she presents On the Edge: The Art of High-Impact Leadership at the Ohio Osteopathic Symposium.
A leadership expert and history-making polar explorer, Levine, who has had three heart surgeries and has Raynaud's disease, has climbed the highest peak on every continent and skied to the North and South poles.
She makes a compelling case that leadership principles that apply in the world of extreme adventure also apply to today's health care environment. "In any situation where lives are on the line or the stakes are exceptionally high," she said, "there's no better training ground for leaders than settings where people are pushed beyond their perceived limits."
Levine's keynote speech is Saturday, April 25, at 11:00 am.
The Symposium, a collaboration between OOA and Ohio University Heritage College of Osteopathic Medicine, is April 22-26 at the Hilton Columbus at Easton Town Center. For more information and to register, go to www.ooanet.org/cme.
2014 OOA
Member Census
FREE IT Services Checkup
Chance to win $100 Visa Gift Card
Access to other Members-only Benefits
Call (855) 319-7828 today
to schedule a complimentary practice consultation.
An hour with our team could save you thousands of dollars!
Upcoming Events