CALL FOR ABSTRACTS
Annual Osteopathic Poster Competition & Exhibition, April 22, 2017
(November 4, 2016) The Ohio Osteopathic Association (OOA), Ohio University Heritage College of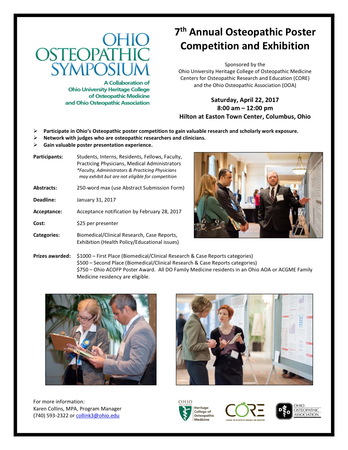 Osteopathic Medicine (OU-HCOM), and Centers for Osteopathic Research and Education (CORE) announce a Call for Abstracts for the 7th Annual Osteopathic Poster Competition & Exhibition.
Abstracts, 250 word maximum, are due by January 31, 2017, and should be submitted online. Acceptance notifications will be sent by February 28, 2017. There is a $25 fee per presenter.
The competition, held annually during the Ohio Osteopathic Symposium, is set for Saturday, April 22, 2017, 8:00 am – 12:00 pm, at the Hilton at Easton Town Center in Columbus.
There are three categories: Biomedical/Clinical Research; Case Reports; and Exhibition (health policy/educational issues). Medical students, interns, residents, fellows, faculty, practicing physicians, and medical administrators are all invited to participate. The latter three categories are "exhibit only" and ineligible for competition and prizes.
Cash prizes are awarded:
$1000 – First Place (Biomedical/Clinical Research & Case Reports categories)
$500 – Second Place (Biomedical/Clinical Research & Case Reports categories)
$750 – Ohio ACOFP Poster Award (all DO Family Medicine residents in an Ohio AOA or ACGME Family Medicine residency are eligible)
For more information, contact Karen Collins, MPA, program manager at the CORE Research Office, at 740-593-2322 or collink3@ohio.edu.
Get the Call for Abstracts flyer.
See a list of poster winners, from 2007 through 2016.
2014 OOA
Member Census
FREE IT Services Checkup
Chance to win $100 Visa Gift Card
Access to other Members-only Benefits
Call (855) 319-7828 today
to schedule a complimentary practice consultation.
An hour with our team could save you thousands of dollars!
Upcoming Events