Osteopathic Medical Award Presented at State Science Day
OU-HCOM Students Judge Projects
(May 16, 2017) Six middle school and high school students won the Osteopathic Medical Award at the 69th Annual State Science Day, held May 13 at The Ohio State University French Field House. The OOA awarded $650 in prizes for outstanding projects related to the field of medicine.
State Science Day, sponsored by the Ohio Academy of Science, is one of the largest in the country. Students representing nearly 300 schools competed for scholarships and awards valued at more than $600,000. The Osteopathic Medical Award is part of the sponsored awards program.
The OOA partnered with the Student Osteopathic Medical Association (SOMA) at Ohio University Heritage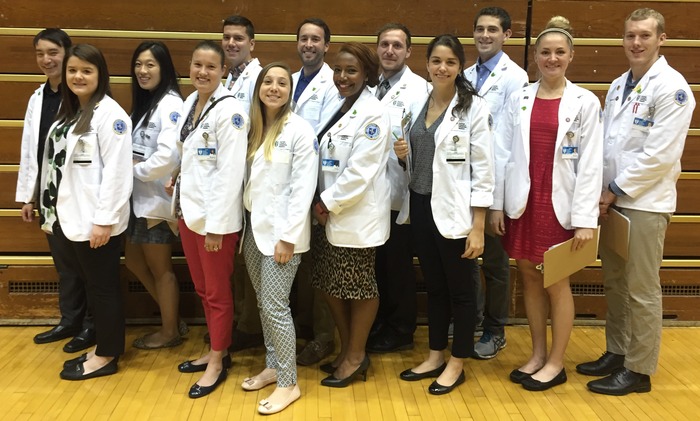 College of Osteopathic Medicine (OU-HCOM) to recruit volunteers for the event. Thirteen OU-HCOM student volunteers judged the 70+ projects competing for the Osteopathic Medical Award: Tsedey Biru Juka; Chelsea Bitler; Rosalie Dillon; Jared Harp; Maggie Helfrich; Nicholas Ingram; Lauren Jasko; Emma Leonard; Tyler Sauerbeck; Chris Sosnofsky; Dan Strbich; Sam Wagner; and Ellean Zhang. Special thanks to Student Doctor Juka, SOMA president, who helped coordinate the project.
The following received the Osteopathic Medical Award:
SENIOR DIVISION, 10th-12th grade

First Place ($150)
Corrin Nemeckay
12th grade, Mentor High School

Second Place ($100)
John J. Wells
11th grade, Carroll High School, Dayton

Third Place ($75)
Minjue Wu
11th grade, Upper Arlington High School


JUNIOR DIVISION, 7th-9th grade (27 entries)

First Place ($150)
Shiv Sathya Dewan
9th grade, Hoover High School, North Canton

Second Place ($100)
Adeel Koshal
9th grade, Athens High School, The Plains

Third Place ($75)
Arvind Prasad
8th grade, Mason Middle School
2014 OOA
Member Census
FREE IT Services Checkup
Chance to win $100 Visa Gift Card
Access to other Members-only Benefits
Call (855) 319-7828 today
to schedule a complimentary practice consultation.
An hour with our team could save you thousands of dollars!
Upcoming Events