OHF Boards Announce New CEO and Fall Funding Awards
(December 15, 2017) The Osteopathic Heritage Foundation and Osteopathic Heritage Foundation of Nelsonville (the Foundations) have announced the selection of a new President to lead the Foundations along with fall funding awards that will support a new dental safety net clinic; osteopathic graduate medical education; recovery and treatment services for individuals experiencing substance use disorders; increased access to breast health services; and expanded home ownership opportunities for low-income families.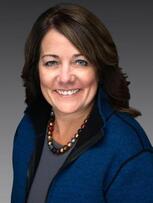 Terri Donlin Huesman has been selected President of the Osteopathic Heritage Foundation and the Osteopathic Heritage Foundation of Nelsonville. She will assume her new role effective January 1, 2018, replacing longtime chief executive Richard A. Vincent who recently advanced his retirement effective December 31, 2017.
Ms. Donlin Huesman has been employed by the Foundations for 20 years, serving in several capacities, most recently as Executive Vice President. She is a graduate of Bowling Green State University and has a MBA from Franklin University.
"Ms. Donlin Huesman has a successful history with our organization and the Board is proud to select her as our chief executive. We are confident in her ability to lead the Foundation in the future," said Robert Palma, DO, Board Chair, Osteopathic Heritage Foundation.
The OHF also awarded $4,258,742 in funding during Fall 2017 to support programs and initiatives serving central and southeastern Ohio. Projects include:
Hopewell Health Centers: $639,000 to support a new, twelve operatory dental safety net clinic in Nelsonville, Ohio. The clinic will be located in the former Doctors Hospital of Nelsonville facility, which will become a comprehensive, community health center providing services including behavioral health and primary care.
OhioHealth Doctors Hospital: $2,744,742 to support transition to the Accreditation Council for Graduate Medical Education (ACGME) Single Accreditation System. Funds will provide support for residency programs and fellowship programs during the transition to the ACGME.
Maryhaven, Inc.: $750,000 to support a new, 55-bed facility for individuals suffering from opiate overdoses, providing immediate access to care, treatment and residential services.
Susan G. Komen Columbus: $75,000 to continue a funding partnership supporting the Southeastern Ohio Breast Health Initiative, increasing education, screening and treatment access for women in southeastern Ohio.
Habitat for Humanity of Southeast Ohio: $50,000 to support a new training and administrative facility for the organization, which will allow increased opportunities for homeownership, financial literacy classes and home repair services.
The Osteopathic Heritage Foundations are comprised of two private, nonprofit foundations that share a common mission, vision and staff, while maintaining separate governing boards and funding concentrations. Although the OHF are independently operated foundations, they share a common bond with the Ohio Osteopathic Association. In addition to supporting community health and quality of life initiatives in their respective communities, these Foundations fund programs that advance osteopathic medical care, osteopathic medical education and medical research.
2014 OOA
Member Census
FREE IT Services Checkup
Chance to win $100 Visa Gift Card
Access to other Members-only Benefits
Call (855) 319-7828 today
to schedule a complimentary practice consultation.
An hour with our team could save you thousands of dollars!
Upcoming Events