AOA, OOA Meet With Congress On Health Care Reform
In his speech to a Joint Session of Congress, September 9, 2009, President Barack Obama laid out his case why health care reform is imperative and several facets of his health reform priorities.
In response, the American Osteopathic Association joined with several other organizations, including the American Academy of Family Physicians, to signal support for health care reform. The organizations sent this joint letter to President Obama to coincide with a planned Doctors Rally Against Reform organized by the Tea Party Patriots.
In addition, the AOA released a press statement that outlines five goals for health reform and pledges to work with Congress and the President to advance policies that meet the shared goals of improving the nation's ailing health care system.
Leaders throughout Ohio met with members of Congress during the summer recess. On August 18, Robert L. Hunter, DO, met with Rep. Steve Austria as part of his healthcare advisory panel. On August 19, Jack Brose, DO, dean of Ohio University College of Osteopathic Medicine, participated in a small roundtable discussion with Rep. Charlie Wilson in Marietta. Richard Snow, DO, and Peter A. Bell, DO, met with staff from Rep. Mary Jo Kilroy's Columbus office on August 24. In Cleveland on August 25, Keith Studdard from the AOA Washington Office, Robert S. Juhasz, DO, Stuart B. Chesky, DO, Brian A. Kessler, DO, and Cleveland Academy Executive Director Stacy Pot met with Beth Thame, state deputy director for Sen. Sherrod Brown. The next day in Cincinnati, Victor D. Angel, DO, Carl M. Shapiro, DO, Gregory J. Frappier, DO, and Studdard met with Rep. Steve Driehaus. On August 31, Sharon Van Nostran, DO, met with Rep. John Boccieri in Canton.
During all of these meetings, physicians noted that those participating in the Medicare program face a 21 percent cut in their Medicare payments on January 1, 2010, and that the health care reform debate presents an opportunity to make substantial and long-term reforms to the Medicare physician payment formula. They stressed the importance of moving away from the current episodic-based payment system and towards payment models that promote the patient-physician relationship through payment methodologies such as the medical home.
OOA President Christopher J. Loyke, DO, sent letters to the editors of Ohio's eight major newspapers noting that while ideological battles are waged in Washington, in the media, and across the country, patient access to affordable quality health care remains under threat. He wrote that as physicians, OOA members' first priority for health care reform is to enact policies that will protect the patient-physician relationship and improve the quality of care provided.
In addition, OOA staff attended The Heart of Health Care Reform, hosted by CareSource and ONN TV. The panel discussion with Sen. Sherrod Brown; Reps. Betty Sutton, Zack Space, and Kilroy; Ohio Department of Insurance Director Mary Jo Hudson; and Ohio Department of Job & Family Services Douglas Lumpkin aired over Labor Day weekend.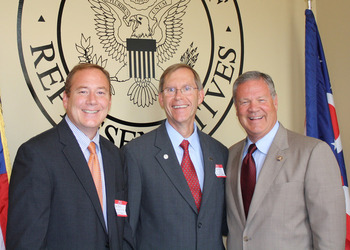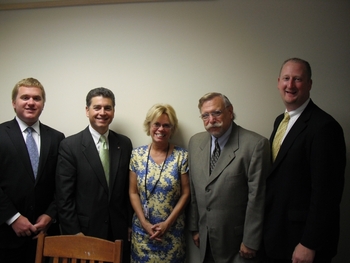 2014 OOA
Member Census
FREE IT Services Checkup
Chance to win $100 Visa Gift Card
Access to other Members-only Benefits
Call (855) 319-7828 today
to schedule a complimentary practice consultation.
An hour with our team could save you thousands of dollars!
Upcoming Events