New England COM Assistant Dean to Head OU-HCOM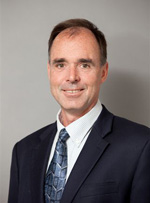 (Athens, OH – July 18, 2012) Kenneth H. Johnson, DO, has been named dean of the Ohio University Heritage College of Osteopathic Medicine effective August 20. He was selected to lead the college after an extensive national search and interview process.
Johnson is the associate dean for educational programs and vice dean at the University of New England College of Osteopathic Medicine (UNECOM), where he is also an associate professor of family medicine and osteopathic manipulative medicine. He will succeed John (Jack) A. Brose, DO, who announced his retirement last year after 11 years of unprecedented growth at the college.
"The past two years have been remarkable ones for the Heritage College," said Executive Vice President and Provost Pam Benoit. "This is a critical time in the college's history with the Osteopathic Heritage Foundations' gift of $105 million in 2011, new extension campuses in Dublin and Cleveland, expanded partnerships with OhioHealth and Cleveland Clinic, and the growth of medical research programs. Dr. Johnson has the knowledge and the experience necessary to guide the medical college as it works to realize its new vision for the future of medical education."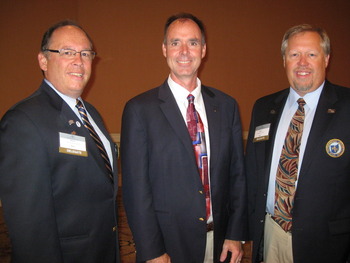 OU-HCOM Dean-Designate Kenneth Johnson, DO, (center) met with the Ohio Delegation, during the 2012 AOA House of Delegates, July 18-22, in Chicago. Here he is seen with OOA President John F. Ramey, DO, (right) and Albert M. Salomon, DO, OOA Past President (left).
OOA President John A. Ramey, DO, a member of the dean search committee, commended the selection of Dr. Johnson, saying his experience and background as a family physician makes him uniquely qualified to meet the college's mandate to train primary care physicians for underserved areas.
"The OOA has always had a close working relationship with our college," said Ramey, a 1992 OU-HCOM graduate. "We look forward to doing everything in our power to assist the new dean in shaping the future of osteopathic medicine in Ohio."
During his tenure at UNECOM, Johnson has served as an associate dean of clinical education, an interim associate dean of clinical affairs, and the interim chair of the department of family and community medicine. Johnson also held the position of chief medical officer for the Health Access Network in Lincoln, Maine.
Throughout his career Johnson has been active in leadership roles within the osteopathic profession. He has served as the president of the Northeast Osteopathic Medical Education Network, the president of the American Academy of Osteopathy, the Vice Chair of the American Osteopathic Association's (AOA) Bureau of Osteopathic Education and is currently serving as a member of the AOA's Commission on Osteopathic College Accreditation and the Vice Chair of the Bureau of Osteopathic Graduate Medical Education Development.
In recognition of his professional accomplishments, Johnson has received the Maine Osteopathic Physician of the Year Award in 2006, the Rosewell P. Bates Public Service Award in 2008, and was named the Thomas L. Northrup Lecturer in 2009.
"As the new Dean I am looking forward to serving and building on the great work that has brought OU-HCOM into the forefront of osteopathic medical education," said Dr. Johnson.
"It was a pleasure to meet faculty, staff and partners of the college," he said. "Together we will lead the profession as we further transform osteopathic medical education, change the way osteopathic medicine is practiced and dedicate ourselves to research programs that address some of the most pervasive aspects of human suffering. Ultimately I know we will make a significant difference for our patients."
Johnson will be the fifth dean of the college, which was founded in 1975 with the mission of helping the state meet its health care needs through the education of primary care physicians. Close to 500 undergraduate medical students are trained each year during a four-year program that involves two years at the Athens campus and two years of clinical training at one of 12 hospitals in the Centers for Osteopathic Research and Education, a consortium of Ohio teaching hospitals and OU-HCOM, which is recognized as one of the largest, most advanced and best-supported osteopathic medical education consortiums in the country.
Johnson received his doctor of osteopathic medicine degree from UNECOM and a bachelor's degree in biology from St. Michael's College in Burlington, Vermont. He completed his residency at UNECOM where he served as chief resident.
Johnson will step into the position that has been held by Jack Brose, D.O., since 2001. During Brose's tenure as dean, the college expanded the size of its incoming classes; increased the quality of its applicants; established a successful program for underrepresented students; developed its research mission; partnered with the Russ College of Engineering and Technology on an innovative research and teaching building; expanded partnerships with OhioHealth and the Cleveland Clinic to establish the Central Ohio and Northeastern Ohio extension campuses; and received a number of transformative gifts that have enhanced its clinical and teaching capacities.
"Jack's legacy as dean is an impressive one," said Benoit. "Through his leadership the Heritage College has become the premier place to study osteopathic medicine. His tireless efforts along with the work of faculty and staff have brought the college to a new era of prosperity and potential."
Brose will continue to serve as dean until Johnson's arrival. Once the transition to a new dean is complete, Brose will begin a three-year appointment as the vice provost for health affairs and special assistant to Benoit.
The responsibilities of the position will include coordinating the operational and administrative implementation of the two new extension campuses, providing leadership for the development of Ohio University's Health Sciences Center, and working with the deans of the other colleges to advance health and wellness educational programs and research opportunities.
"I'm confident that with our new leadership team, Ohio University can become one of those rare places where medical and health professionals truly learn to work together across boundaries," said Benoit.
2014 OOA
Member Census
FREE IT Services Checkup
Chance to win $100 Visa Gift Card
Access to other Members-only Benefits
Call (855) 319-7828 today
to schedule a complimentary practice consultation.
An hour with our team could save you thousands of dollars!
Upcoming Events