OOA Board Nominates Juhasz For AOA President-Elect
The Ohio Osteopathic Association has sent a letter to the American Osteopathic Association (AOA), state divisional societies and specialty affiliates nominating Robert S. Juhasz, DO, FACOI, of Concord Township, Ohio, as a candidate for the 2013-2014 office of AOA president-elect.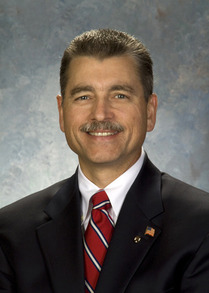 Elections for the office will be held this July during the AOA House of Delegates in Chicago. Dr. Juhasz is currently serving as a member of the AOA Board of Trustees.
"Dr. Juhasz has served the osteopathic profession at the local, state, and national levels for 30 years," said OOA President John F. Ramey, DO. "His vision, dedication, enthusiasm, and hard work clearly demonstrate his ability to lead. In addition, he has a strong knowledge of policy issues—an essential quality for leadership in our rapidly changing healthcare environment."
Dr. Juhasz graduated from Kansas City University of Medicine and Biosciences College of Osteopathic Medicine in 1981. Following completion of his osteopathic rotating internship and Internal Medicine Residency, in 1985, at what was Brentwood Hospital, he served his National Health Service Corps commitment at Richmond Heights General Hospital Family Health Center in Madison, Ohio. He went on to help establish a growing internal medicine practice and became the Internal Medicine Residency Program director and chair of the Department of Internal Medicine at Richmond Heights General Hospital.
In 1998, Dr. Juhasz was appointed to the staff of Cleveland Clinic—and has gone on to lead the Cleveland Clinic Willoughby Hills Family Health Center, which employs 250 caregivers and 110 physicians and other healthcare providers.
Dr. Juhasz has served as a member of Ohio's delegation to the AOA House of Delegates for 20 years and was first elected to the AOA Board of Trustees in 2005. He has held numerous leadership positions within the AOA's bureaus, councils and committees and was chair of the Education Policy and Procedure Review Committee from 2009-2011. He has been an ardent champion of osteopathic education and research that provides evidence to support utilization of osteopathic principles and practice and osteopathic models of education.
Federally, Dr. Juhasz served as the AOA's first liaison to the US Preventive Services Task Force from 2004-2011. He also served the Office of the National Coordinator for Health Information Technology as a member of the American Health Information Community Electronic Health Records Workgroup in 2007-2008 and served the AHIC successor, Governance Planning Workgroup at the Brookings Institute in April 2008.
He has been the AOA's liaison to Ohio University Heritage College of Osteopathic Medicine, where he was named an Honorary Alumnus and also a recipient of OU-HCOM's highest honor, the Phillips Medal. He has always encouraged students to "grow where you are planted" and to advocate on behalf of our profession. He has been instrumental in the development of the OU-HCOM extension campus in collaboration with Cleveland Clinic.
Dr. Juhasz treasures his partnership with his wife of more than 20 years, Donna, and their growing family of four children, Amanda Carroll, Natalie Youdath, Adam Juhasz, Steven Scully and two grandchildren. He enjoys working in his yard, fly-fishing, and hunting.
2014 OOA
Member Census
FREE IT Services Checkup
Chance to win $100 Visa Gift Card
Access to other Members-only Benefits
Call (855) 319-7828 today
to schedule a complimentary practice consultation.
An hour with our team could save you thousands of dollars!
Upcoming Events