In Memoriam: Ruth E. Purdy, DO
OOA Life Member Ruth E. Purdy, DO, died this morning (Tuesday, April 2, 2013) at her home. Dr. Purdy was a champion for osteopathic medicine, a skilled clinician, and a mentor to many in the osteopathic family.

Celebration of her life will be held on Sunday, April 7th, at 2:30 pm at Northwest United Methodist Church, 5200 Riverside Drive Columbus, OH 43220. Friends will be received 1 hour prior. See more information online at bit.ly/YwSf55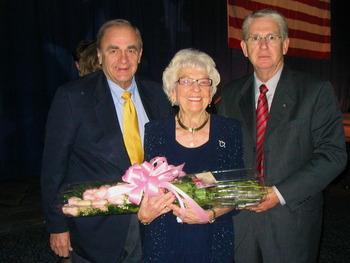 Dr. Purdy was a pioneer in medicine, entering the field in the 1950s when the profession was dominated by males. She was the first female Internal Medicine resident at Doctors Hospital and later became the first female to serve on the hospital Board of Trustees. In 1970, she was elected hospital chief of staff.
Ruth E. Purdy, DO, with Boyd W. Bowden, DO, (left) and Richard J. Vincent during the 2006 AOA Mentor of the Year presentation
Dr. Purdy introduced Columbus to the concept of intensive care units housed in general care hospitals. After a 1960 visit to such a unit in New York, Dr. Purdy returned to central Ohio championing the idea to bring an ICU to an adult care facility. After lobbying successfully for the unit, the ICU opened at Doctors Hospital.

Even during retirement she remained involved in medicine, serving for a time as a medical consultant for a local workers compensation organization, doing social security medical disability exams, and volunteering at the Central Ohio Diabetes Association to provide guidance and education to clients.

In 2006, Dr. Purdy received the American Osteopathic Association's first-ever Mentor of the Year award. She received many honors throughout her career, including the Columbus Osteopathic Association's highest honor, the Sosnowski Distinguished Service Award (1992), OOA Distinguished Service Award (2006), OU-HCOM Phillips Medal (1984); and PCOM's OJ Snyder Memorial Medal (1989).
2014 OOA
Member Census
FREE IT Services Checkup
Chance to win $100 Visa Gift Card
Access to other Members-only Benefits
Call (855) 319-7828 today
to schedule a complimentary practice consultation.
An hour with our team could save you thousands of dollars!
Upcoming Events