Intern/Resident Membership Information
DOs in Ohio AOA approved postdoctoral training programs associated with the Centers for Osteopathic Research and Education (CORE) are automatically enrolled as OOA members for the duration of their training. If you are not receiving OOA publications, contact the membership department.
DOs in Ohio ACGME Programs or a program associated with another OPTI, may apply on line for a dues-free membership. A DO in an approved out-of-state residency/internship program may petition for OOA dues free membership by certifying their intent to return to Ohio to establish a practice. Join Today!
Get Involved
Ohio Osteopathic Symposium and OOA/CORE Poster Contest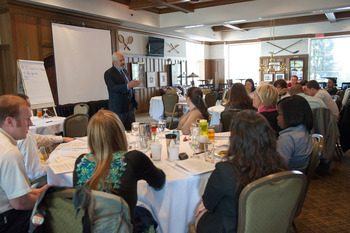 Each spring, DOs from across the state gather for the Ohio Osteopathic Symposium and Ohio Osteopathic Association House of Delegates. In addition to providing continuing medical education, the OOA House of Delegates meets to elect officers, debate resolutions and serve as the policy-making body for the state's osteopathic profession.
CORE residents attend a leadership forum during the 2012 Symposium.
The Symposium offers quality continuing medical education and an opportunity to network with practicing osteopathic physicians throughout the state. More and more residents are also entering posters in the annual research poster contest.
Read more about this year's Symposium.
Mentoring Program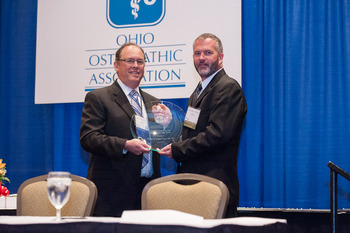 The OOA has partnered with the American Osteopathic Association to build a database of physician mentors. This program is designed to invigorate future leaders in our profession, as well as provide a rewarding opportunity for experienced physicians to "give back". During the 2012 Ohio Osteopathic Symposium, Phillip "Duke" Starr," (right), the Regional Assistant Dean of OU-HCOM's training program at St. Joseph's Medical Center in Warren, received the second annual Mentor of the Year Award from OOA President Albert M. Saloman, DO. Click here to find out more about the OOA Mentoring Program and how to nominate your favorite mentor for the George L. Eckert, Jr., DO, Mentor of the Year Award.
Enter the AOA History Bureau Essay Competition
To encourage osteopathic medical students, interns and residents to study their profession's past struggles and achievements, the AOA Bureau of Osteopathic History and Identity is conducting its sixth annual history essay competition. As it has done since 2006, the bureau will bestow up to three awards: a $5,000 first prize, a $3,000 second prize and a $2,000 third prize. The bureau is asking contestants to focus their essays on the bureau's "Core Principles for Teaching the History of Osteopathic Medicine." Because the bureau has 20 core principles, it is rotating them so that the competition focuses on different ones each year. For more information click here: AOA History Contest
Health Policy Education
The Training in Policy Studies (TIPS) is a year-long program for second and third year DO residents preparing for leadership roles in the profession and positions of influence in health policy. Throughout the academic year, TIPS participants attend four intensive three-day seminars designed to help them become familiar with healthcare policy issues and acquire the necessary skills to participate in policy discussions, serve on committees at the state and federal level, testify, and develop position statements. Only 10 residents are accepted in to the program annually. New York College of Osteopathic Medicine offers the program in collaboration with AACOM, AOA, and others.
Leadership Opportunities
OOA Board of Trustees.

The OOA has a long history of valuing and encouraging resident participation in state association leadership. There is a position for a voting resident member on the OOA Board, who is selected by the Ohio Resident Advisory Committee. ORAC is a subcommittee of the CORE Academic Steering Committee that addresses issues in postgraduate medical education within the CORE from the intern, resident and fellow perspective. Comprised of representatives from each base CORE hospital, ORAC advocates for osteopathic postgraduate trainees in the CORE; works to preserve the distinctiveness of osteopathic principles and the diversity of osteopathic medicine; and fosters professional, business and servant leadership in the osteopathic community.
Edward A. Craft, DO, a Family Practice Resident at St. John's West Shore Hospital, serves as the Resident Representative on the Ohio Osteopathic Association Board of Trustees. Please let Dr. Craft know if you have issues or concerns that you'd like discussed by the OOA Board of Trustees.
Ohio ACOFP Board of Governors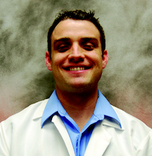 The Ohio ACOFP Board of Governors also has two positions for residents, who serve a two year terms beginning when they are in their second year of a family practice resident program. Anyone interested in serving on the Ohio ACOFP Board should make their interest known to their CORE Family Practice Residency Program Director. The CORE FP Residency Directors review applications from candidates and recommend an individual for appointment to the Ohio ACOFP Board. The Resident Representatives for 2013-15 are Brady C. Martin, DO, OGME III, Fairfield Medical Center, Lancaster (right) ; and Nicklaus J. Hess, DO, OGME II, Grandview Medical Center, Dayton (left).
Resident Key Contact
The OOA is looking for DO residents in each specialty to serve as key contacts for the organization. Please contact the OOA Central Office if you're interested in participating.
Young Physicians Council
The OOA was the first divisional society of the American Osteopathic Association to establish a Council of Young Physicians, and the Ohio Delegation authored the resolution which lead to the creation of a similar committee at the national level. The OOA Council Of Young Physicians serves as a liaison with students, interns and residents, oversees physician placement, and develops leadership opportunities for new physicians in practice. It serves as an advocate for physicians under the age of 40 or who have been in practice for five years or less, and performs such other duties as assigned by the OOA House, the OOA Board, or the Executive Committee. If you are interested in helping to plan activities or would like to serve as a member of the Council, contact the OOA Central Office.
Interns/ Residents