Mentoring Program
Attention Ohio Osteopathic Students and Residents! Nominate your favorite Ohio physician mentor for the George L. Eckert, Jr., DO, Mentor of the Year Award. The Deadline is March 1. For a nomination form, criteria and additional information click here: Mentor Nomination Form
OOA Mentoring Hall of Fame
The Association inducted 19 physicians into the OOA Mentoring Hall of Fame during the Ohio Osteopathic Symposium, May 18, 2013. Click here to see a slide presentation honoring the first inductees.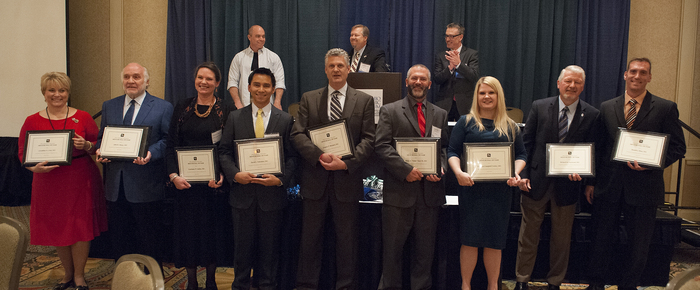 Be a Mentor, Find a Mentor
The AOA Mentor Exchange was created to connect osteopathic students, interns, and residents with established practitioners to help build a better future for osteopathic medicine. The AOA Mentor Exchange provides a vehicle for DOs to offer their guidance and wisdom, and for student doctors, interns, residents and DOs who are seeking a mentor to benefit from the experiences of practicing physcians.
The OOA and AOA strongly believe that mentoring is an essential component of the learning experience for students, interns, residents and young physicians. Mentees, likewise, serve as "reverse mentors" by helping practicing physicians understand the stresses associated with osteopathic education today and the ever-evolving changes in the practice of osteopathic medicine. Most importantly, mentors provide osteopathic physicians-in-training with the support and guidance they need to become compassionate physicians, who will live and practice by the words of the "Osteopathic Pledge of Commitment:"
The Osteopathic Pledge of Commitment
As members of the osteopathic medical profession, in an effort to instill loyalty and strengthen the profession, we recall the tenets on which this profession is founded – the dynamic interaction of mind, body and spirit; the body's ability to heal itself; the primary role of the musculoskeletal system; and preventive medicine as the key to maintain health. We recognize the work our predecessors have accomplished in building the profession, and we commit ourselves to continuing that work.
I pledge to:
Provide compassionate, quality care to my patients;
Partner with them to promote health;
Display integrity and professionalism throughout my career;
Advance the philosophy, practice and science of osteopathic medicine;
Continue life-long learning;
Support my profession with loyalty in action, word and deed; and
Live each day as an example of what an osteopathic physician should be.
Since osteopathic medicine places its emphasis on treating patients, not symptoms, both the OOA and AOA believe mentoring helps students become physicians who are first and foremost dedicated to the importance of quality health care and the patient/physician relationship.
Nicholas G. Espinoza, DO Named 2014 Mentor of the Year
Dr. Espinoza, a family physician from Toledo, received the award, April 26, 2014, during a reception at the Ohio Osteopathic Symposium. The students who nominated him for the award said he provides encouragement to students and residents; is a willing listener; is always dependable; is a role model; and inspires those around him to be better people.
They also cited his love for the profession as an important aspect of his mentorship.
Geraldine N. Urse, DO Named 2013 Mentor of the Year
Geraldine N. Urse, DO.of Columbus, was presented the 2013 Mentor of the Year by OOA President John F. Ramey, DO, during the Ohio Osteopathic Symposium in Columbus. Shown below with OOA President-Elect Paul T. Scheatzle, DO, Dr. Urse is currently Interim Director of Medical Education at Doctors Hospital, Columbus, and also serves as the OOA class mentor for the OU-HCOM Class of 2017.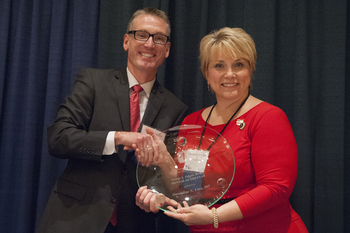 The students who nominated Dr. Urse lauded her for:
providing encouragement to students and residents
opening her home for social gatherings
being a willing listener
being a professional
treating residents and students as family
sharing life stories and lessons learned
continuingt o perfect her delivery of difficult information
filling her residents' mailboxes with homemade sweet treats
being kind-hearted—and yet not afraid to voice her opinion
always exhibiting a calm demeanor
pouring her heart and soul into her job at the residency clinic and always thinking of new ideas to help residents become the best physicians they can be.
"Dr. Urse has impacted and continues to impact the lives of students across multiple professional disciplines, including medicine, pharmacy, and nursing," said Dr. Ramey. "She is threaded throughout the lives of professionals and patients from coast to coast."
The George L. Eckert, Jr., DO, Mentor of the Year Award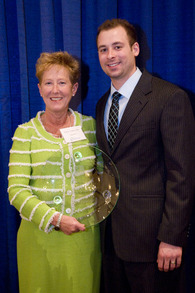 The George L. Eckert, Jr., DO, Mentor of the Year award was established in 2011 to honor a physician each year who has a record of offering guidance and encouragement to osteopathic medical students, residents, and fellows.
Joni S. Canby, DO, of Youngstown, nominated by Louis Volino, OMS III, received the first George L. Eckert, Jr, DO, Mentor of the Year award, presented for the first time during the 2011 Ohio Osteopathic Symposium.
Funding for the award is provided by the Osteopathic Heritage Foundations (OHF). The award is presented during the Ohio Osteopathic Symposium each springl. The winner receives a plaque from the association and the OHF presents a $1,000 contribution to a charitable organization, OU-HCOM or any post-graduate training program of the recipient's choice.
Dr. Eckert, who died February 2, 2011, was a family physician in Columbus. He was well known by the profession as chaplain of the OOA House of Delegates, delivering the opening prayer for more than 25 years. He opened his office in 1954, on North High Street just blocks from the Ohio State University, and operated his practice with compassion and grace for over 28 years. In 1982, he accepted a position at Doctors Hospital as the director of Medical Education, a post he held until his retirement in 1991.
During his career, Dr. Eckert served as Chief of Staff at Doctors Hospital, Medical Director at Thurber Village Care Center, Board member for Peer Review Systems, Inc., member of the Columbus Board of Health for 16 years and it's President for three terms, and a Clinical Professor, for the Ohio University College of Osteopathic Medicine.
He chaired numerous committees, councils and associations, was active in the Ohio Osteopathic Association, served as an Ohio delegate to the American Osteopathic Association and served as President of the Columbus Academy of Osteopathic Medicine. He continued his service as a trustee of the Osteopathic Heritage Foundation and the DH Foundation for many years.
Dr. Eckert cared for thousands and counseled hundreds on subjects ranging from community health, education, the practice of family medicine, professional politics, to life in general. And, most importantly, he was a friend to all those who had the privilege to know him. His faith, loving devotion to his family, and his dedication to the health and education of our community, will be remembered, treasured, and appreciated for many years to come.
Philip A."Duke" Starr, II, DO, Receives 2012 Mentor of the Year Award
Philip A. "Duke" Starr II, DO, of Warren, (right) was presented the 2012 Mentor of the Year by OOA President Albert M. Salomon, DO, during the Ohio Osteopathic Symposium in April. He is currently director of the Family Practice Residency, chief of the Family Practice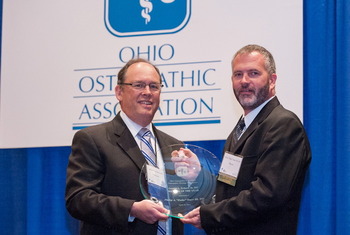 Department, and CORE assistant dean at St. Joseph Health Center. In all of these roles he has been a mentor and friend to osteopathic medical students and residents.
For his trainees, Dr. Starr creates a feeling of family, initiating several annual gatherings, hosting Thanksgiving dinner, encouraging participation at the OOA District Academy meetings, and more. The three residents who individually submitted nominations said he is the perfect model for a compassionate, knowledgeable, and professional physician. They appreciate his calm demeanor, individualized support, and accessibility, but also his clinical skills, including OMM.
"Dr. Starr is the epitome of what an osteopathic mentor should be", said OOA President Albert M. Salomon, DO. "His commitment is helping to develop the next generation of osteopathic physicians."
The Osteopathic Heritage Foundation (OHF ) presents a $1,000 contribution to a charitable organization, OU-HCOM or any post-graduate training program of the recipient's choice. Dr. Starr designed the St. Joseph Medical Center CORE site as the recipient.