Update, April 27, 2016
That was fun! Thanks to all of the speakers, exhibitors, poster presenters, moderators, and attendees. Watch for a recap in Buckeye Osteopathic Physician and for photos on Facebook and Twitter. See you next year: April 19-23, 2017
Welcome to the Ohio Osteopathic Symposium
Charting the Course for Health Care Transformation
KEYNOTE SPEAKER
Paul Grundy, MD

Saturday, April 23, 2016
11:00 am-12:00 pm
An active social entrepreneur and speaker on global health care transformation, Paul Grundy, MD, is driving comprehensive, linked, and integrated health care and the concept of the Patient Centered Medical Home. He is known as the "godfather" of PCMH.
Grundy is the founding president of the Patient Centered Primary Care Collaborative and IBM's Director of IBM Global Healthcare Transformation. In his role at IBM, he develops and executes strategies that support the company's health care industry transformation initiatives. Part of his work is directed towards shifting health care delivery around the world towards consumer-focused, primary-care based systems through the adoption of new philosophies, primary care pilot programs, new incentives systems, and the information technology required to implement such change.
His work has been reported widely in The New York Times, BusinessWeek, Forbes, New England Journal of Medicine and newspapers, radio and television around the country. He is invited frequently as a thought leader to conferences such as TED, NHS Confederation, and Foundation for Healthcare Transformation.
Grundy is also an adjunct professor at the University of Utah Department of Family and Preventive Medicine. In 2012, he was elected to the Institute of Medicine.
JO WATSON, DO, MEMORIAL LECTURE
John J. Kopchick, PhD
Friday, April 22, 2016
10:30 am
John Kopchick, PhD, is a world-renowned molecular endocrinologist in the growth hormone area. He has published more than 300 manuscripts related to molecular aspects of GH's structure and action and its relationship to obesity, diabetes, and aging.
He and his research team discovered and characterized the molecular aspects of GH receptor antagonists. This discovery was further developed into the drug, Somavert (Pegvisomant for Injection) used as a treatment for acromegaly; a growth disorder marked by excessive levels of hGH that results in enlargement of the hands and feet, facial disfiguration and multiple organ disorders. If left untreated, premature death can ensue. About 40,000 individuals are diagnosed with acromegaly worldwide.
Established in 1972, the JO Watson, DO, Memorial Lecture Award is an ongoing tribute to one of Ohio's most respected DOs. The award and lecture commemorate James O. Watson's exceptional career as an accomplished surgeon, medical educator, and distinguished advocate for osteopathic medicine and research. Watson dedicated his life to the profession for more than four decades until his death in 1985.
Recipients of the honor have made significant contributions to the advancement of health care, osteopathic medical education and/or research. The award carries an honorarium as well as a $5,000 charitable contribution in the recipient's name to an osteopathic-supportive endowment, college, university or foundation of the lecturer's choice. The award is sponsored by the Ohio Osteopathic Foundation and Osteopathic Heritage Foundations.
#OhioOsteo
Register by April 1
to Save
33 Category 1-A Credits
Wednesday, April 19 -
Sunday, April 23, 2017

Hilton Columbus
at Easton Town Center
3900 Chagrin Drive
Columbus, Ohio 43219
614-414-5000
Contact Information
Speakers:
Laura Whitt email
(614) 352-4682

OU-HCOM Society of
Alumni & Friends
(740) 593-2151

Exhibitors:
Carol Tatman email
(614) 299-2107 ext. 201

Registrations:
Joanne Barnhart email
(614) 299-2107 ext. 206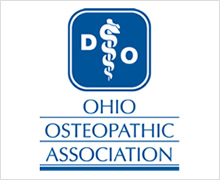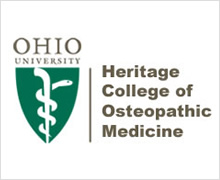 #OhioOsteo Tweets