OOA Advocates for Step Therapy Legislation
(February 11, 2016) A coalition of health care advocates from across Ohio visited the Ohio Statehouse, February 10, to advocate for Senate Bill 243, and the newly-introduced companion bill, House Bill 443, which address step therapy, or "fail first" requirements imposed by health plans.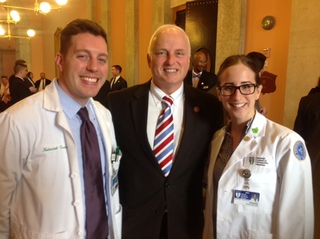 OU-HCOM students Nate Overmire, OMS IV, and Elizabeth Snajdar, OMS I, with Rep. Terry Johnson, DO, sponsor of HB 443
Senate Bill 243 is sponsored by Sen. Peggy Lehner (R-Kettering) and Sen. Charleta Tavares (D-Columbus). House Bill 443 is sponsored by Rep. Terry Johnson, DO (R-McDermott) and Rep. Nickie Antonio (D-Lakewood).
Under step therapy, an insurer routinely denies coverage of a prescribed medication, requiring that the patient first try a different medicine, usually at less cost to the health plan. The patient must "fail first" on the drug chosen by the insurer, at which point the health plan may require additional steps – other medications – before approving the original prescription from the prescriber.
Step therapy is increasingly used by insurers. In 2010, nearly 60 percent of health insurers reported using step therapy, and in 2013, 75 percent of large employers reported offering plans that utilize step therapy.
OOA Executive Director Jon F. Wills, and two OU-HCOM students-- Nate Overmire, OMS IV, and Elizabeth Snajdar, OMS I, participated in the legislative visits. They met with State Rep. Barbara Sears (R-Sylvania) to explain the major provisions of the bill. Wills also participated in interested party meetings led by Lehner prior to the introduction of SB 243 in the Senate.
SB 243 does not prohibit step therapy, but sets up conditions for its use. The bill would:
Require that step therapy decisions be based on medical guidelines developed by independent experts. This will make step therapy safer for patients.
Specify conditions under which it is medically appropriate to exempt patients from step therapy. This might include cases in which the patient is already stable on the physician-prescribed medication, or cases where the patient has already tried the drug required by the insurer and it didn't help.
Require insurers to have a clear, quick process for physicians to request an override to step therapy. Studies show that 20 percent of patients who are denied the medication they were prescribed end up not taking any prescription medication at all. Their treatment is effectively delayed, with possible consequences for their health.
A recent assessment showed that 18 of the nation's largest insurers who were asked to cover a biologic or immunologic drug (often used to treat autoimmune diseases) instead required patients to try medications carrying "black box warnings" of side effects like serious infections, tuberculosis, and cancer. This happened even when the medication requested by their healthcare provider did not carry any such black box warnings. In other words, patients were prescribed medicine that had less serious side effects, and the insurer replaced it with medicine that had potentially more severe side effects.
So far six states (Connecticut, Kentucky, Louisiana, Maryland, Mississippi and Washington) have passed a law requiring more accountability and transparency from insurers when it comes to step therapy. California recently passed legislation that requires insurers to accelerate their response time to exceptions and appeals. Ohio is among 10 states currently considering legislation.
Members of the coalition include:
Academy of Medicine of Cleveland & Northern Ohio
American Academy of Dermatology
American Cancer Society, Cancer Action Network
American Diabetes Association
American Lung Association, Ohio & Michigan
Arthritis Foundation, Great Lakes Region
Cancer Support Community, Cincinnati
Central Ohio Diabetes Association
Chi Eta Phi Sorority, Inc.
Cincinnati Area Senior Services, Inc.
Columbus Chapter, Black Nurses Association
Chrohn's & Colitis Foundation of America
Chrohn's & Colitis Foundation of America, Central Ohio Chapter
Chrohn's & Colitis Foundation of America, Northeast Ohio Chapter
Chrohn's & Colitis Foundation of America, Southwest Ohio Chapter
Epilepsy Foundation, Western Ohio
Health Disparities Collaborative of Ohio, Inc.
Leukemia and Lymphoma Society
Lupus Foundation of Greater Cleveland
Mental Health & Addition Advocacy Coalition
Mental Health America of Franklin County
National Alliance on Mental Illness , Ohio
National Liver Foundation, Heartland Division
National Organization for Rare Disorders
National Patient Advocate Foundation
National Psoriasis Foundation
Ohio Academy of Family Physicians
Ohio Asian American Health Coalition
Ohio Association of County Behavioral Health Authorities
Ohio Association of Rheumatology
Ohio Bleeding Disorders Council
Ohio Chapter, American College of Surgeons
Ohio Dermatological Association
Ohio Hematology Oncology Society
Ohio Osteopathic Association
Ohio Psychiatric Physicians Association
Ohio Sickle Cell and Health Association
Ohio State Medical Association
Prescription Assistance Network of Stark County, Inc
Prevent Blindness Ohio
The Epilepsy Association (Serving Northeast Ohio)
The Ohio Council of Behavioral Health and Family Service Providers
US Pain Foundation