Governor Signs Osteopathic Recognition Month Bill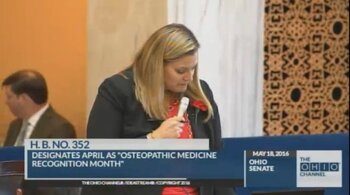 (May 31, 2016) Governor John Kasich signed HB 352 today, designating April as "Osteopathic Medicine Recognition Month, after the Senate unanimously passed the bill by a vote of 29-0, May 18th.

Rep. Terry Johnson, DO (R-McDermott) sponsored the bill because he wanted to memorialize the month-long celebration as a permanent statute in the Ohio Revised Code. This differs from resolutions and proclamations made by the Ohio General Assembly since they only recognize specific occasions on a one time basis without an on-going impact.

Sen. Shannon Jones (R-Springboro) and Sen. Lou Gentile (D-Steubenville) championed the bill in the Senate saying that osteopathic physicians have made a significant contribution to health care in Ohio. Listen to Sen. Jones' and Sen. Gentile's tribute and the vote on the Ohio Channel. (Select HB 352 on the "Marker" index to begin the video.)

Johnson introduced HB 352, in October 2015, in honor of the significant contributions made by the osteopathic field of medicine to improve the health of Ohioans.



During testimony before the House of Representatives Health and Aging Committee, October 14, he said: "Proud as we are of our osteopathic profession and the great impact that we have had on the health and well being of not only Ohio's citizens but the people of the entire nation, we are just as proud of our MD brothers and sisters and all the other members of America's health care team. At the end of the day, when all is said and done, I go back to an axiom that was taught to me in my osteopathic medical training and repeated time after time until it was indelibly etched into the matrix of my mind: IATP. It's About The Patient. That is something, I believe, that we can all rally around…"

The bill unanimously passed (94-0) the Ohio House of Representatives, 
November 17. View Johnson's speech. "As a doctor of osteopathic medicine myself, I have a good sense of the dedication and professionalism that my osteopathic colleagues bring to their patients each and every day across our great state," he said. "They make a wonderful difference in people's lives, one patient at a time."