Ohio DO Named AOA Mentor of the Year (Again)
Family Physician from Athens Receives the National Honor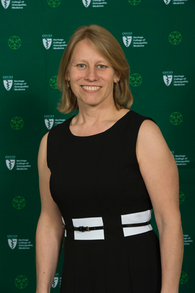 (October 28, 2015) Katherine J. "Katy" Kropf, DO, of Athens, was named 2015 Mentor of the Year by the American Osteopathic Association during the organization's annual Osteopathic Medical Conference and Exposition (OMED), October 17-21 in Orlando. It is the second consecutive year that an Ohio DO—and faculty member at Ohio University Heritage College of Osteopathic Medicine—received the prestigious award. Last year's recipient was Timothy D. Law, Sr., DO.
Kropf is a 2002 graduate of OU-HCOM, where she is an associate professor of Family Medicine. Actively involved in the training of medical students, she has been a trusted mentor and advisor to many. She instituted "Mindfulness Tuesdays" at the Athens campus, a weekly mindfulness meditation gathering geared toward busy students and faculty.
In addition to Kropf and Law, another Ohioan has received the award. The late Ruth E. Purdy, DO, of Columbus, was named 2006 Mentor of the Year
Established in 2005, AOA's Mentor of the Year program honors those who help shape the future of the osteopathic medical profession.
2014 OOA
Member Census
FREE IT Services Checkup
Chance to win $100 Visa Gift Card
Access to other Members-only Benefits
Call (855) 319-7828 today
to schedule a complimentary practice consultation.
An hour with our team could save you thousands of dollars!
Upcoming Events