Profession Joins Effort to Reduce Social Isolation among Children, Teens
National "Start With Hello" Week, February 8-12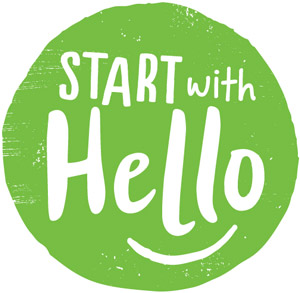 (January 14, 2016) Eighteen Ohio groups, including the Ohio Society of American College of Osteopathic Family Physicians (Ohio ACOFP), are working together with Sandy Hook Promise to empower young people to solve the problem of social isolation among children and teenagers. Sandy Hook Promise's free program, Start With Hello, teaches students in grades 2-12 the skills they need to reach out to and include those who may be dealing with chronic social isolation and create a culture of inclusion and connectedness within their school or youth organization.
All schools and youth organizations across Ohio are encouraged to register to participate in Start With Hello Week, which is February 8-12, 2016, and bring the free training to their community. By participating in Start With Hello, schools and youth organizations are also eligible to apply for a special $10,000 award. In addition, participating schools and youth organizations will be given digital access to no-cost and easy-to-implement training materials, presentations and a planning guide. The training can be accomplished in an assembly or classroom format or through student leaders and takes 25-45 minutes.
In addition to Ohio ACOFP, other groups endorsing the Week include the Ohio Parent Teacher Association, Ohio School Board Association, Ohio Mental Health Network for School Success, Ohio Family and Children First, Ohio Chapter of the American Academy of Pediatrics, Ohio Academy of Family Physicians, Ohio Psychiatric Physicians Association, Drug Free Action Alliance, National Alliance on Mental Illness, and others.
2014 OOA
Member Census
FREE IT Services Checkup
Chance to win $100 Visa Gift Card
Access to other Members-only Benefits
Call (855) 319-7828 today
to schedule a complimentary practice consultation.
An hour with our team could save you thousands of dollars!
Upcoming Events
←
April 2020
→
S
M
T
W
T
F
S
1
2
3
4
5
6
7
8
9
10
11
12
13
14
15
16
17
18
19
20
21
22
23
24
25
26
27
28
29
30