Six Win Osteopathic Medical Award at State Science Day
Medical Students Volunteer to Judge Projects
(May 16, 2016) Six middle school and high school students won the Osteopathic Medical Award at the 68th Annual Sta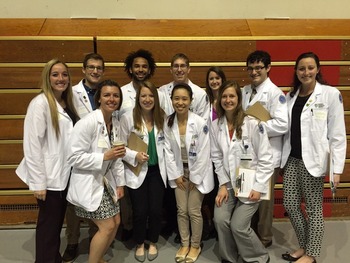 te Science Day, held May 14, 2016, at The Ohio State University French Field House. The OOA awarded $650 in prizes for outstanding projects related to the field of medicine.
State Science Day, sponsored by the Ohio Academy of Science, is one of the largest in the country with more than 1,100 students from nearly 300 schools. Students competed for scholarships and awards valued at $600,000. The Osteopathic Medical Award is part of the sponsored awards program.
Thank you to the Ohio University Heritage College of Osteopathic Medicine (OU-HCOM) students who judged the projects: Kayla Prokopakis; Jordan Brown; Emily Cata; Sydney Cryder; Charlie Davis; Steven Honsberger; Esther Hwang; Amber McDermott; Art Olivia; Alyssa Ritchie; and Nikki Sarkisian. Special thanks to Student Doctor Prokopakis, president of Student Osteopathic Medical Association at OU-HCOM, for recruiting the students.
The following received the Osteopathic Medical Award:
SENIOR DIVISION, 10th-12th grade (21 entries)

First Place ($150)
Ms. Rama N. Balasubramaniam
11th grade, Dublin Coffman High School
The Mechanisms of Glioblastoma Migration in a Bioengineered 3D Brain Model

Second Place ($100)
Ms. Sukhmani Kaur
10th grade, Hathaway Brown, Shaker Heights
Umbilical Cord Tissue Derived Mesenchymal Stem Cells: Therapeutic Development for Cystic Fibrosis

Third Place ($75)
Ms. Corrin Nemeckay
11th grade, Mentor High School
Folic Acid Rescues Cardiac Function

JUNIOR DIVISION, 7th-9th grade (27 entries)

First Place ($150)
Ms. Ashley Paige Vosler
9th grade, Archbishop Alter High School, Kettering
Medicine Mayhem

Second Place ($100)
Ms. Mieke Riddlebarger
8th grade, Athens Middle School
Using Honey to Minimize Bacteria Growth

Third Place ($75)
Ms. Caitlyn Kimbell
8th grade, St. Paul School, North Canton
Which Antacid Medication Works Best?
2014 OOA
Member Census
FREE IT Services Checkup
Chance to win $100 Visa Gift Card
Access to other Members-only Benefits
Call (855) 319-7828 today
to schedule a complimentary practice consultation.
An hour with our team could save you thousands of dollars!
Upcoming Events