Gearing Up for Legislative Action; Medical Student Advocates for the Profession
[February 22, 2019]
The OOA continues to gear up for the 133rd Ohio General Assembly.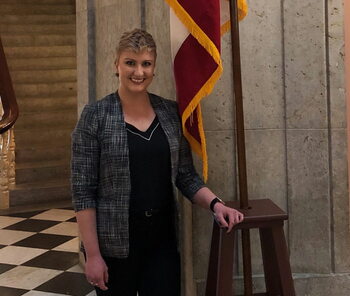 OU-HCOM Student Tiffany Stainfield, who is serving an OOA health policy rotation, and Executive Director Matt Harney met with State Rep. Derek Merrin, chair of the Health Committee this week. Stainfield is from Merrin's 47th House District, which encompasses the majority of Fulton County and western parts of Lucas County. They talked about the OOA, legislative priorities, and OU-HCOM—specifically that the college's in-state placement is highest among all Ohio medical schools.
In related news, the OOA sent letters this week to all state legislators outlining the role of osteopathic medicine in Ohio and its impact on health care. The correspondence included a "Know Your Doctor Wheel" for easy reference regarding education and training of each member of the health care team.
While some bills have been introduced, things aren't expected to heat up until after Gov. Mike DeWine's state of the state speech and rollout of his budget proposal—which is due by March 15. The budget process typically monopolizes the legislative agenda through June.