Publications
The Buckeye Osteopathic Physician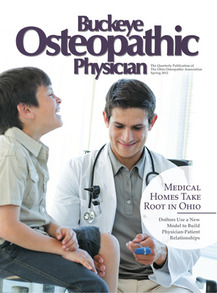 The Buckeye Osteopathic Physicianis a quarterly magazine. The subscription price for members is included as part of their dues. Non-members may purchase a subscription for $25 per year. The magazine publishes a variety of state and national medical news, including articles about osteopathic physicians in Ohio, Ohio University Heritage College of Osteopathic Medicine, Ohio Osteopathic Hospital Association (OOHA) facilities, legislative activities, and other information pertinent to DOs. Click here to see a recent issue of the Buckeye (this is a high quality resolution, so it may take extra time to load). Members can view previous issues of the Buckeye by clicking here.
Attention Advertisers: Click here for the Buckeye Rate Card and contact information for the advertising sales rep. To subscribe to the magazine or obtain information about other advertising opportunities, call the OOA Office at 1-800-234-4848.
OSTEOFACTS
The OOA also distributes the OSTEOFACTS to its members every other week. The newsletter provides up-to-the minute medical news, legislative alerts, reminders of important deadlines, legal advisories and more. OOA members may receive the publication via fax or e-mail. The e-mail version includes links and other online resources. Click here to see a SAMPLE.
A Second Voice, A Century of Osteopathic Medicine in Ohio
Doctors of osteopathy today practice side by side with medical doctors, employing the same diagnostic and curative tools of scientific medicine, with a difference. A Second Voice: A Century of Osteopathic Medicine in Ohio is the story of that difference. Focusing on the historical experience of a pivotal midwestern state, author Carol Poh Miller illuminates struggles common to osteopathic medicine nationwide as it fought to secure its place in American healthcare.
Written in conjunction with the 100th anniversary of the Ohio Osteopathic Association, A Second Voice traces the origins and growth of the profession in Ohio. It recounts the early legal battles, the establishment of separate osteopathic hospitals, and the hard-fought campaigns to win equal practice rights and to build a state college of osteopathic medicine. Finally, it reconsiders the notorious murder trial of Cleveland osteopathic physician Sam Sheppard in the context of his family's contributions to the osteopathic profession and a prosecution that, evidence has shown, fingered the wrong man.
A Second Voice is a valuable addition to the history of medicine in Ohio and the nation. To order a copy, go to Ohio University Press.
The OOA -- Celebrating 100 Years
This video was premiered at the 1999 OOA Centennial Gala, and highlights the history of the osteopathic profession in Ohio, the development of the state's osteopathic hospitals and the creation of OU-COM. The video features interviews with several of Ohio's prominent osteopathic physicians, as well as friends of the profession. For a copy of the video, call the OOA Central Office at 1-800-234-4848.