Governor Announces Opioid Prescribing Rules as Legislators Introduce Bills with more Restrictive Measures
(March 31, 2017) Gov. John Kasich, yesterday, announced the promulgation of new mandatory rules by state licensing boards that will limit the number of opioids that can prescribed for acute pain patients. A day earlier, top Republicans gathered at the statehouse with a grieving father to announce legislation that would impose even more restrictions and continuing medical educational requirements on Ohio physicians.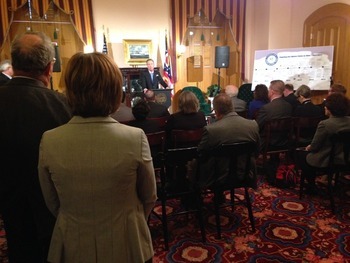 Joined by state lawmakers, Cabinet members and licensing board officials, the Governor acknowledged the medical community has made considerable progress in reducing opioid prescriptions through voluntary prescribing guidelines with the help of Ohio's physician associations. He pointed out Ohio's guidelines were developed in 2012, four years before the CDC issued national guidelines last year.
But the Governor and lawmakers stressed that much more needs to be done to reduce the number of pills prescribed, especially for acute pain patients. He estimated the new prescribing limits could reduce the number of addictive pills dispensed in Ohio by 109 million annually.
Major provisions to be included in the proposed rules include the following:
5-day opioid limit for minors;
7-day opioid limit for adults;
The total morphine equivalent dose (MED) of a prescription for acute pain cannot exceed an average of 30 MED per day;
Health care providers can prescribe opioids in excess of the new limits only if they provide a specific reason in the patients record and document OARRS check, informed consent, clinical justification, etc.
ICD-10 diagnosis or procedure code will be required on every controlled substance prescription, which will be entered into Ohio's prescription monitory program (OARRS)
The rules will not apply to opioids prescribed for cancer, palliative care, end of life/hospice care or medication assisted treatment for addiction.
New limits will be enacted simultaneously by the Medical, Pharmacy, Dental and Nursing Boards. Proposed rules will be discussed by the Medical Board during its April 12 policy committee meeting and then proceed into Ohio's standard rule review and adoption process. Further information and specific prescribing information will be provided by the State Medical Board of Ohio once the rules are finalized, but before they become effective.
"The Ohio Osteopathic Association, with the help of our official representatives, Cleanne Cass, DO, Cynthia S. Kelley, DO, and many others, has been working with the Governor's Cabinet Opiate Action Team to develop emergency department, chronic pain guidelines and acute pain guidelines since 2014," said OOA President Geraldine, N. Urse, DO. "Unfortunately, policy makers feel too many physicians have not taken the guidelines seriously, and it is now time to promulgate rules and pass more laws."
OOA Executive Director Jon Wills said legislators, in particular, continue to be frustrated, given the extent of the opioid epidemic and prescription drug abuse problems that have affected their own families and communities. He said SB 119 (Hackett) and HB 167 (Edwards) take an even more intrusive approach to the practice of medicine by mandating alternative treatment and annual continuing medical education.
"We continue to be concerned about access to effective pain treatment and affordable addiction services," said Urse. "We don't want to see physicians afraid to treat patients who really need help -- that just encourages drug seeking behavior and puts addicts on the street without the services they need"
The legislators' news conference featured Scott Weidel, whose son died from a drug overdose December 2015. He attributed his son's death to lack of sufficient prescribing limitations. The proposed bills, in addition to limitations, would require physicians to adhere to the recent CDC Guidelines, unless they meet certain criteria and take on-going education courses in order to prescribe opioids.
"It's concerning that these bills only target dentists and physicians," said Wills. "Other prescribers, like advance practice nurses and physician assistants were excluded."
Wills said enforcement agencies need to use the OARRS system to identify the patients and physicians who are drug seekers or overprescribers. He said the Medical and Pharmacy Boards just started using the OARRS data base to identify outliers and state lawmakers need to stop treating every physician as a problem prescriber."
The new House and Senate bills specifically target physicians, without directing more funding to deal with those who are already addicted, or addressing the increased use of heroin, cocaine and illicit fentanyl as the prescription drug supplies decrease. The proposed bills are also supported by top Republican leadership, including former Speaker of the House Larry Householder, Secretary of State Jon Husted, and State Attorney General Mike DeWine.
Wills said the OOA has been working hard to address the opioid crisis through programming at the Ohio Osteopathic Symposium, the promotion of osteopathic manipulative treatment as an alternative to pain medications, and buprenorphine waiver management programs.
"The Ohio University Heritage College of Osteopathic Medicine, just devoted a half day health policy program to Ohio's opioid epidemic," Wills said. "It featured students, clinicians and state health policy officials to help educate our students about the severity of the problems and how legislators are urging physicians to play a major role in stopping unnecessary prescribing." See: http://ooanet.org/aws/OOSA/pt/sd/news_article/134277/_PARENT/layout_details/false
During the legislature's news conference, Wendell said a "medical system failure" was "a significant factor in Daniel losing his battle." He blamed the state's current inadequate oversight of painkiller prescribing, saying the CDC limits should be statutory.
"Having no threshold is like having no speed limit on public roadways," he said.